Elementary
Here you will find links to the various classrooms in the Elementary end of the school. Here you can read interesting tidbits about the curriculum, trips, and other highlights of the school year in the respective classes.
Junior Kindergarten - Ms. Jacobs, Ms. Tetford
The Junior Kindergarten program at Brampton Christian School provides the building blocks for learning experiences. Christian principles and teachings are woven into this full-day, five-day a week program.
JK students are introduced to many introductory subjects at an age-appropriate, fun paced, learning environment. Students will be introduced to the French language using songs and games. The Music program introduces students to rhythm, movement and song. In the Phys. Ed. program students have an opportunity to participate in many activities and develop new skills. Some activities include balls, parachute and hoops, and as well, students participate in a gymnastics and dance unit. Library and computer classes are also provided.
The academic program follows the "Footsteps for Fours" course of study which covers Phonics, Math, Social Studies and Science. Readiness skills are taught for printing, reading and math. Whole class and small group activities help to reinforce the skill being taught, as well as individual seatwork. Students are introduced to many Bible stories through the "Bible Truths" Christian Education program. They also memorize one Bible memory verse each month.
Every month students will be introduced to mini themes which are woven into the academic and play sections of the JK program. Thematic units are also highlighted with a variety of school trips, in-school workshops and activities throughout the school year. The JK class will participate in the Spring concert in May.
Senior Kindergarten - Mrs. Botros, Ms. Charbonneau, Mrs. Miller (EA), Ms. Persaud (EA)
Welcome to Senior Kindergarten!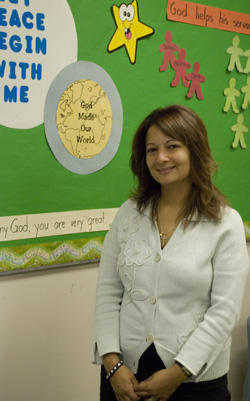 The Senior Kindergarten Program at Brampton Christian School provides learning experiences which will develop the foundational skills necessary for success. Christian principles and teachings are integrated into our full day programs and offers opportunities to meet the developmental needs of the total child: socially, emotionally, intellectually, and physically.

The Senior Kindergarten program provides opportunities for students to learn to function within a group and become independent in handling personal needs, handling classroom materials, and following routines. Students learn to express and communicate thoughts and ideas through speaking, listening, and writing.
Our core, theme-based program, uses the "Beginning" Phonics and Reading Program, "Bible Truths" Christian Education Program, "Math K5" Math Program, and Tree House Handwriting Workbook. The curriculum equally offers both formal and informal learning opportunities using Academic and Open Court Centres, individual enrichment in all academic areas, as well as in Science & Social Studies, Christian Education, French, Music, Art, and Physical Education.
Senior Kindergarten students participate in various on-site workshops, school trips, chapels, school-based activities, and a formal graduation ceremony. Our students also carry out special concert performances and participate in a grand graduation celebration in June.
Grade 1 - Mrs. Vickery, Mrs. Zafar
Welcome to Grade 1
Grade 1 is a very exciting year at Brampton Christian School. Some students come into Grade 1 knowing how to read while others learn how to read during their year in Grade 1. Reading is the doorway to learning so is the main focus at the beginning of Grade 1. Students read every day at school and every night at home. Below are the subjects taught in Grade 1, along with a list of skills learned in each subject and the topics covered in the Grade 1 Curriculum. We follow the Ontario Curriculum in all subject areas.
READING: Students are given a Reader that contains stories and vocabulary designed to increase their reading ability. Reading activities for each story are completed in workbooks. By the end of Grade 1, students are beginning to answer simple questions in complete sentences. Participation in weekly Raz-Kids activities and guided reading is also a big part of the Reading Program in Grade 1.
PHONICS: Students use the Modern Curriculum Press Level A phonics workbook. Students learn about initial, middle and final consonants, short and long vowels, blends, word endings, contractions and digraphs. Review pages are given throughout each unit and a test is given at the completion of each unit.
SPELLING: Students use The ACSI Grade One Spelling Workbook. This program compliments the Phonics Program that is used in Grade 1. Students learn initial consonants, long and short vowels, word endings, double letters, blends and digraphs. At the beginning of the year Sight Words are introduced each week. Students do a variety of activities with these words and are tested at the end of the week. By the 6th week of school a spelling list is given to each student and a test is given at the end of the week.
MATH: Students use the Math Makes Sense workbook designed for their grade level. The workbook is divided into eleven units. At the completion of each unit, a test is given. Supplemental materials, gathered from a variety of sources, are used to enhance and consolidate learning in each unit. Students learn number recognition, counting by 1's, 2's, 5's and 10's to 100, greater than/less than, ordinals to the 10th position, addition and subtraction facts to 12, patterning, measurement, place value (tens and ones), recognition of shapes, geometric terms, recognition of money (penny, nickel, dime, quarter), time (hour and half-hour), fractions (halves, thirds, quarters), simple graphing, word problems and readiness for multiplication and division (dividing objects into equal groups)
CHRISTIAN EDUCATION: Students in Grade 1 use the BJU Press Bible Truths Curriculum Workbook. The program is divided into 10 different units that focus on a particular Bible event or Bible character from both the Old and New Testaments of the Bible. Tests are given at the end of each unit, to assess student's knowledge. Christian Videos are also used to supplement learning. Weekly Bible verses are learned by students.
SCIENCE AND SOCIAL STUDIES: We adhere to the Ontario Curriculum Guidelines for Science and Social Studies. The following units are covered in Grade 1: My Body, The 5 Senses, Nutrition, Growth and Changes in Animals, Properties of Objects, Energy, Structures, Cycles and Seasons, Relationship/Rules/Responsibilities, Local and World Communities and Special Days and Holidays. A workbook is made for each topic. General knowledge, research, hands on activities and experiments are used to teach each unit. Tests and/or summative projects are given at the end of each unit to assess student's knowledge.
FRENCH AND MUSIC: These subjects are taught two times each week by Miss Plouffe and Mrs. Fanni.
PHYSICAL EDUCATION: Students participate in a Gym class with Mr. Doggart twice a week. Students learn basic motor skills through a variety of games and use of equipment.
HEALTH: Students learn about good health and nutrition habits once a week with Miss Jacobs.
COMPUTER/ART/LIBRARY: Students go to the Computer Lab and Library once a week with Ms. Oakes. Students also do Art projects, using different mediums, once a week.
FIELD TRIPS: Students go on several Field Trips throughout the year such as: Chudleigh's Apple Orchard, The Meadowvale/Rose Theatre, Downey's Farm and Air Riderz. The Mad Scientist is periodically invited to Grade 1 to help students understand the units they are studying. This is always a fun time. Students also go skating in the Winter and Bowling in the Spring.
Grade 2 - Mrs. Mills, Miss Hann

Grade 2 is an exciting year at Brampton Christian School. Students learn many things. Reading is very important. Students read every day at school and every night at home, using the RazKids Program. Below are the subjects taught in Grade 2, along with a list of skills learned in each subject and the topics covered in the Grade 2 Curriculum.
READING: Students use Readers geared to their level of reading. Students are taught to answer questions in complete sentences. At the end of the year, students complete a Novel Study using The Mouse and the Motorcycle.
GRAMMAR AND WRITING: Students use the English 2 Writing and Grammar Program. Throughout the year, students cover a variety of grammar concepts including: types of sentences, parts of sentences (subject and action), nouns, verbs, punctuation, and adjectives. Students also learn a variety of writing structures and use the 4 stages of the writing process. Writing projects include a personal story, instructions, a couplet poem, a book report, and a friendly letter. Students also keep a weekly journal.
SPELLING: Students use the ACSI Spelling Series for Grade 2. Students learn about long and short vowels, syllables, plurals, word endings, base words, contractions and compound words. Students write a spelling test every week.
MATH: Students cover a variety of math concepts using a combination of in class work pages, daily warm up exercises, and weekly homework. Students learn about sorting, patterning, number relationships, time, temperature, money, addition and subtraction to 100, linear measurement, area, perimeter, 2D geometry, 3D geometry, multiplication, division, fractions, mass, and capacity.
SCIENCE AND SOCIAL STUDIES: In social studies, students learn a variety of mapping skills, including how to identify their own place in the world. Students also have the opportunity to explore other countries and the ways in which they are the same or different from our own. Students learn about Traditions and Celebrations, and how they change over time. In Science we study Air and Water in the Environment, States of Matter, Animal Classifications, and Simple Machines.
CHRISTIAN EDUCATION: Students use the program Bible Truths - A Servant's Heart. Throughout the year students study the following units: God is my King, An Obedient Heart, A Humble Heart, Birth of a Saviour, A Serving Heart, A Courageous Heart, A Forgiving Heart, Easter: He Lives, Jesus the Messiah, and A Generous Heart.
FRENCH AND MUSIC: These subjects are taught twice each week by Miss Plouffe and Mrs. Fanni.
PHYSICAL EDUCATION: Students participate in Gym class twice a week with Mr. Doggart.
COMPUTER / ART/ LIBRARY: Students participate in each of these subjects once per week.
FIELD TRIPS: Students go on Field Trips throughout the year such as: The Meadowvale Theatre, The Royal Winter Fair, The African Lion Safari. Students also go skating in the Winter, swimming in the Spring, and participate in Mad Science Workshops throughout the year.
Grade 3 – Mr. Bramer, Mrs. Lackey
The Grade Three curriculum offers a year full of new and challenging learning opportunities for the students. This year also marks the beginning of an exciting journey for students to represent our school on our competitive and intramural sports teams.
CHRISTIAN EDUCATION: Our program leads the students on a spiritual journey to know God, His character and promises, and His purpose for our lives. Students are given a verse from the Bible to memorize and are tested orally on a biweekly basis.
MATHEMATICS: Students use the textbook, Math Makes Sense, to review and build on the concepts they have learned and are introduced to new and challenging mathematical concepts. Topics include Patterning and Place Value, Patterns in Addition and Subtraction, Geometry, Multiplication and Division, Sorting and Data Management, Measurement, Motion Geometry, Fractions, Length, Perimeter and Area, Patterns in Numbers and Geometry and Probability.
LANGUAGE ARTS: Students use the English 3: Writing and Grammar program, which develops the correct use of English grammar in written and oral communication. This program also uses the Writing Process to teach different types of compositions (how-to paragraph, friendly letter, persuasive essay, story, book report, poetry, research report, compare and contrast essay). The students use Raz Kids, an online program designed to meet each student at their reading level. We explore a variety of fiction and nonfiction texts and complete three novel studies, Sarah, Plain & Tall, Escape, and Charlotte's Web.
SCIENCE: In Science, we discover our world through the units on Soils in our Environment, Strong and Stable Structures, Forces Causing Movement, and Growth & Changes in Plants. Students have the opportunity to leave the classroom to explore their world through several trips. These trips compliment the units of study in the curriculum. We will hike through the forest at Kortright Centre to investigate soil and the growth and change of plants. Mad Science visits our class to expand our scientific knowledge and understanding through hands-on experiments.
SOCIAL STUDIES: The students learn about their Canadian heritage through the study of Communities in Canada: 1780-1850, and about their beautiful province as they investigate Living and Working in Ontario. We will have the opportunity to go back in time as we tour Black Creek Pioneer Village to visualize the differences, and similarities of the early settlers in Canada. The students will also become tourists in their own city as we explore the CN Tower for our end-of-the-year trip.
FRENCH AND MUSIC: Twice a week, students receive French instruction with their teacher, Ms. Plouffe. Mrs. Fanni, the music teacher, offers an interactive music program twice a week in the music room.
PHYSICAL EDUCATION: Students participate in gym class twice a week. Students learn a variety of skills through co-operative games, sports and fitness. They also enjoy skating four times a year, and swimming instruction in May and June.
COMPUTER LAB/LIBRARY: Students meet once a week for computer instruction and practice, and once a week for library. Students sign out books of interest and/or research on a weekly basis.
Grade 4 - Mrs. Buscarino, Mrs. Eggengoor
One of our main goals for grade 4 is to promote independence and responsibility for student learning, since this is their first year in a junior grade.
The curriculum expectations are met in ways that are interesting, applicable, and relevant to the lives of our students. They will participate in many group and independent activities, which will allow them to express their learning in different ways. The students should be excited and enthusiastic about learning!
Our Social Studies and Science Units are team taught together with both grade 4 classes using the inquiry process, where the students are given many resources to support their learning. Several cross-curricular projects allow the students to participate in interesting, multifaceted group projects that provide opportunities for them to build confidence through oral communication. Our students are trained to use rubrics to allow them to complete projects or assignments successfully.
Some novels read include the inspirational story of Martin Luther King Jr. and Owls in the Family, written by renowned Canadian author Farley Mowat. We will embark on an in-depth novel study of Helen Keller. We will explore her life as a writer, speaker, and advocate. The Canadian Reader Articles expose the students to current issues that allow the students to reflect on what is happening in Canada today! These articles introduce literacy text and text features that show students how to improve their interest level and comprehension skills. The students will also participate in Literature Circles.
Once a month, all elementary students participate in an interactive chapel where we can fellowship together through a relevant Bible message and song. Each class participates in the Grandparents' Chapel and Christmas or Spring Concerts. These events give the students an opportunity to perform in front of parents, grandparents, family, and friends as we appreciate our ancestors and celebrate Jesus as the Reason for the Season! Our Christian beliefs are integrated through all subject areas.
Students participate in the ACSI (Association of Christian Schools International) Public Speaking Competition. At the grade 4 level, all students are required to memorize a poem or scripture of their choice and recite it to their peers in class. Our students also have the option of participating in the ACSI Math Olympics or Chess Club. Successful candidates will compete against other schools.
The academic program is enriched by in-school presentations from Mad Science and Arts Express Literacy Storytelling, as well as outside trips to the Living Arts Centre and Medieval Times. Each year the grade 4 and 5 students have the wonderful privilege of attending and playing their recorders with The Toronto Symphony Orchestra!
Grade 4 students are given the opportunity to be involved in the competitive sports programs at BCS; Grades 3-6 Track and Field, Grades 3-8 Cross Country, Grades 4-6 Co-ed Soccer, Grades 4-6 Co-ed Softball, Grades 4-6 Boys' Basketball, and Grades 4-6 Girls' Basketball.
Grade 5 - Mrs. Doggart, Mrs. Martin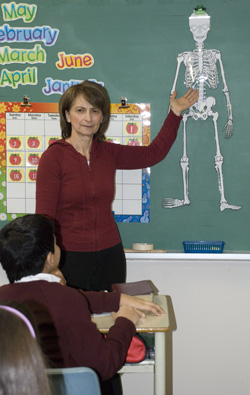 In Grade 5, we teach to excite the students with learning that is applicable to everyday life. The assignments and activities that the students complete are conducive to many learning styles. In our classroom we emphasize the importance of respect, self-worth, and having a Christ centered life.
Every day, students work on developing excellent learning habits. We read and discuss the Bible during Christian Education. We organize our homework and study plans as we complete our agendas, and we take time to do D.E.A.R. (Drop Everything And Read). In addition, students complete daily Math, Reading, and Grammar work which will help them to develop lifelong learning skills.
Some of our learning takes us out of the classroom. At the Ontario Science Centre we learn about how the human body works and how we can help take care of the world and practise sustainable conservation strategies. Students also will have the opportunity to participate in Mad Science workshops where science comes alive while focusing on the subjects of "Forces Acting Up", "Change Matters", and "Excellent Energy".
We visit the Ontario Legislative Building to learn about the role of the Canadian government in our lives and take part in a mock parliamentary debate. We explore "First Contacts and First People" through inquiry based activities which incorporates the use of technology. Our trip to Sainte-Marie among the Hurons will introduce students to the culture and heritage of the Huron Wendat people, and explore their interaction with Ontario's earliest European settlers, the French Jesuit missionaries. They will also have a tour of the historic site and join in with playing traditional Native games.
Finally, our goal is to "Work Smarter, not Harder"! Grade 5 has its challenges, but it is also a lot of fun!
Physical Education – Mr. Blunt (SK-5) and Mrs. Beerley (JK)
French - Miss Plouffe
Music - Mrs. Fanni
Computers/Library – Mrs. Bramer
Educational Resource - Mrs. Heslinga & Ms. Challenger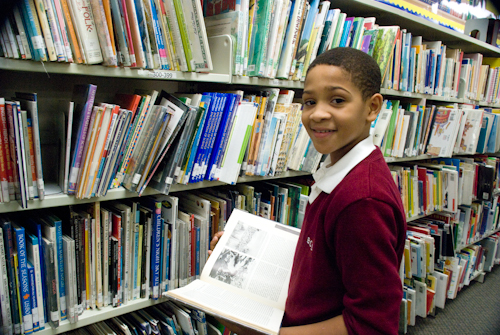 Our elementary library currently consists of over 8,000 books available to our elementary students on a sign out basis.
We also have 25 computers which have 18 different Essential Skills Learning programs designed for children in JK all the way through to Grade 5.
These programs were designed by teachers and they supplement classroom instruction. Students learn that their own level and pace. The Internet is also available for students to conduct research. However, sites are guarded with a Pure Pages block to ensure that inappropriate sites are not visited.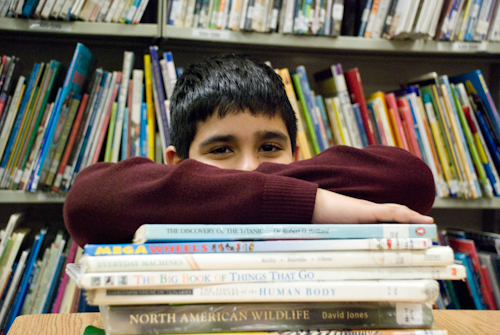 Supervision is provided during both recesses in the library for those students who need to catch up on classroom work.
Each year we host 2 book fairs during the parent-teacher interview weeks in which both students and parents alike can purchase current reading materials. Profits earned through this are put right back into to library in the form of new books.